Text and photos Erik K Abrahamsen
Tour to Nyhavn, New Royal Theatre at Copenhagen Harbour, Amalienborg Castle, The Marble Church, The Store Houses, Maersk Domicil, Gefion Fountain, Kastellet and The Little Mermaid at Quay Langelinie.
The history of Copenhagen is Denmarks history marked by ups and downs. Long periods of economic revival in the Middle Ages and in 16-17oo century with large construction activity of
churches, monasteries, castles, palaces, ramparts and fortresses, squares and beautiful houses.
Something has gone caused by attacks and lootings by invaders and the large fires in 1728 and 1795. These 2 fires destroyed thousands of houses in the old city  – but incredibly much has been preserved until to day!
Open your eyes wide open – the city and its history is under your feet, under you and around you – ready to play.
I will guide you through the history by walking through selected parts of the oldest Copenhagen within the city walls. Its a trip where you need your eyes and your imagination to feel and experience the history drama as it unfolded precisely the places we will visit.
Map of Copenhagen City:
Click on the map and use your zoom control and you see it in full screen size. Photo: Erik K Abrahamsen, 10. october 2012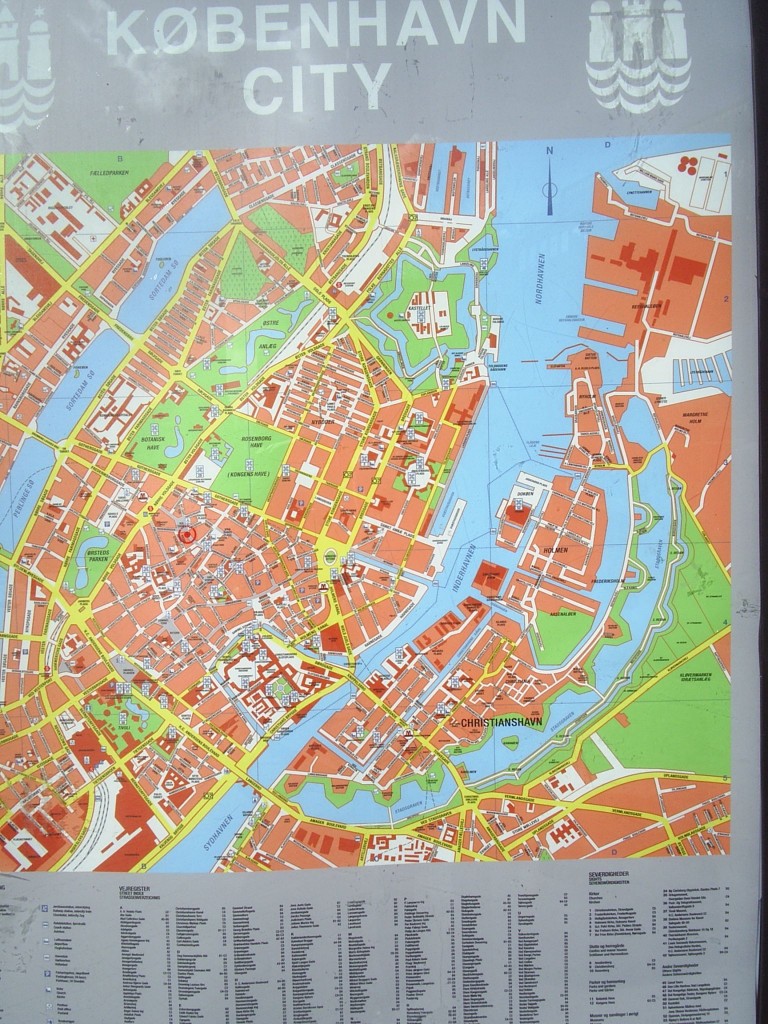 New Copenhagen:
On this walk we will visit New Copenhagen – a vision of an expanded Copenhagen to double size by King Christian 4 (1588-1648). From 1604  the king began  buying large areas east and north of the old city to Øresund and the entrance of Copenhagen Harbour. Here  he builded  a fortress Sct Annae Skanse with 3 bastions from 1626-40 and started building ramparts, bastions and moats north, east, west and south (Christianhavn 1620-24) of Copenhagen.
Kongens Nytorv became by King Christian 5 (1670-99) the new central quare of Copenhagen with the same distance to all 24 bastions of the new fortress to protection of Copenhagen from invaders.
We begin our tour at Nyhavn Anchor as neighbour to Kongens Nytorv:
New Harbour, Nyhavn build as a canal in 1671-73:
We continue our walk on the eastern/northern side of the canal, "the sunny side" through the houses and wharf (bolwark) of the canal King Christian 5 builded in 1671-73. The canal is 400 meter long, 25 meter wide and 3 meter deep. The king wanted to stimulate trade and to get a direct acces to the new central square Kongens Nytorv. From now on merchantships could do their loading and piloting close to the merchantyards- and houses in Nyhavn.
The eldest house in Nyhavn was build 1681: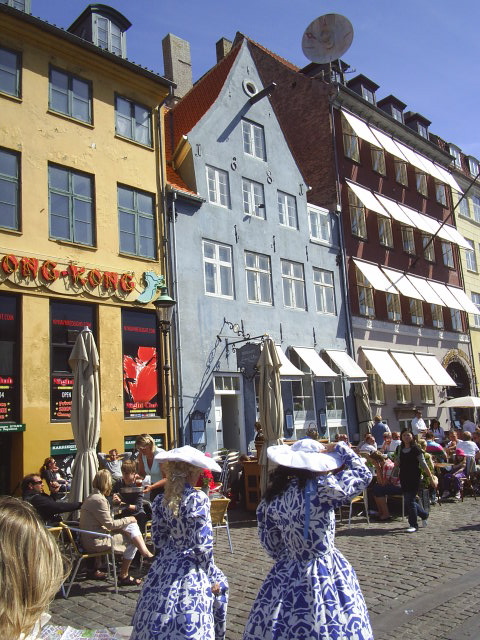 Today Nyhavn is one of the most popular recreational areas in Copenhagen with in- and outdoors restaurants and cafees, picnics on the bolwarfs and a meeting place with families and friends to enjoy life in day- and nighttime.
Warm up before the football match: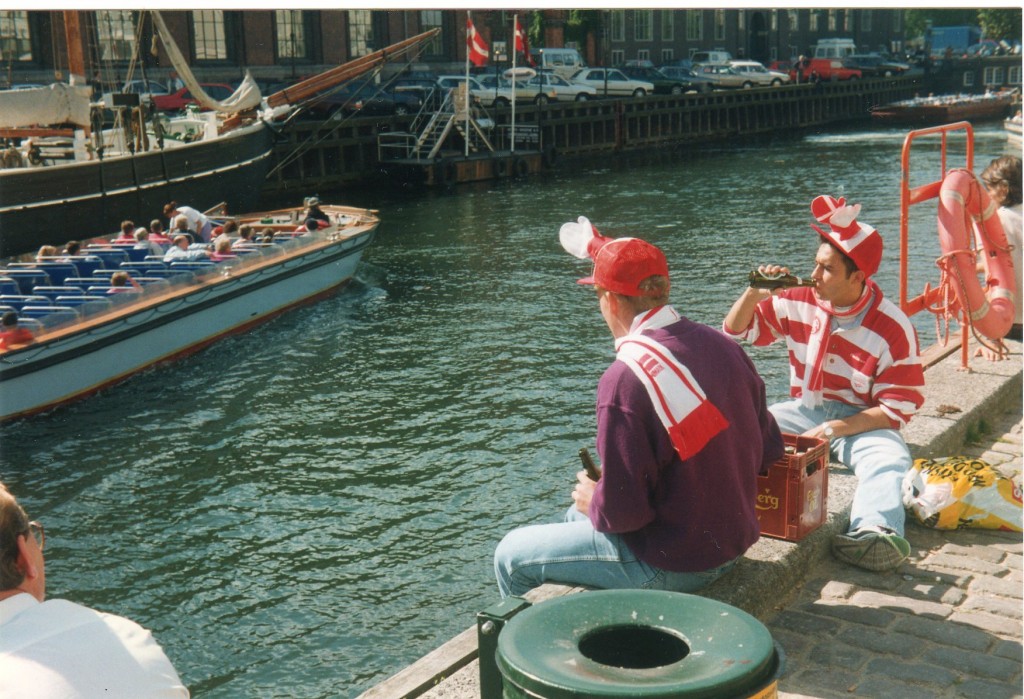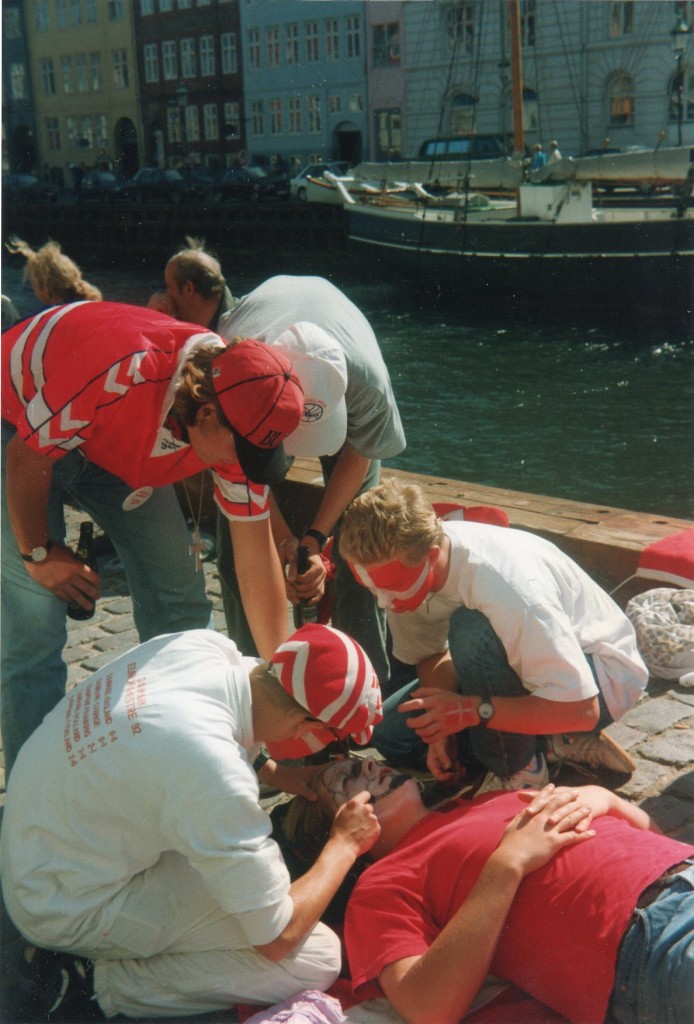 Enjoying good food and drinks in outdoors restaurants:
– and on the balwark: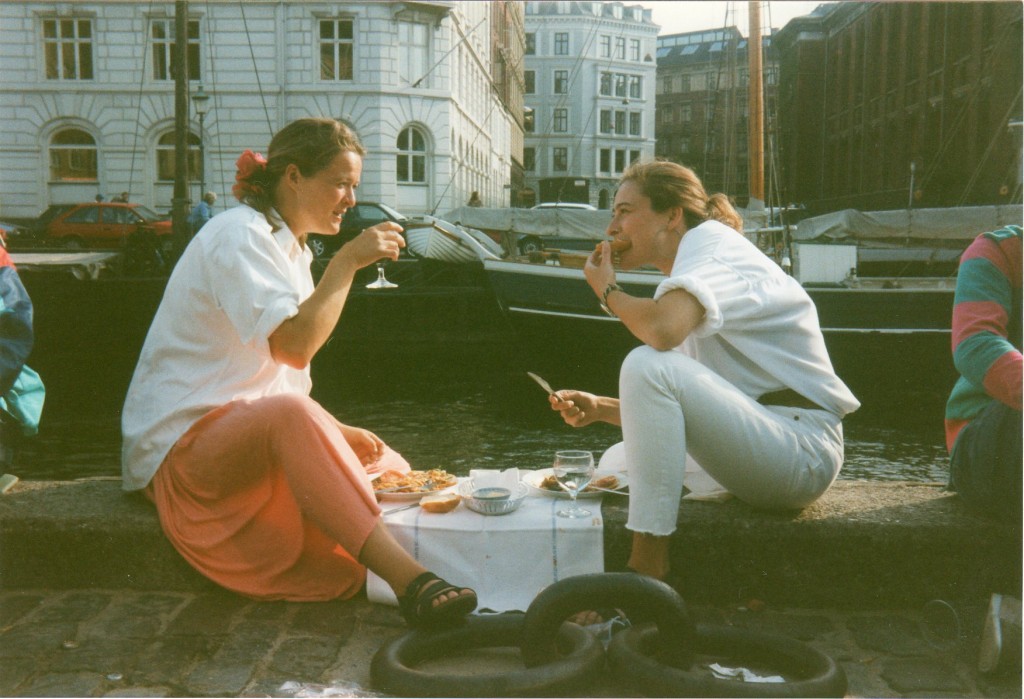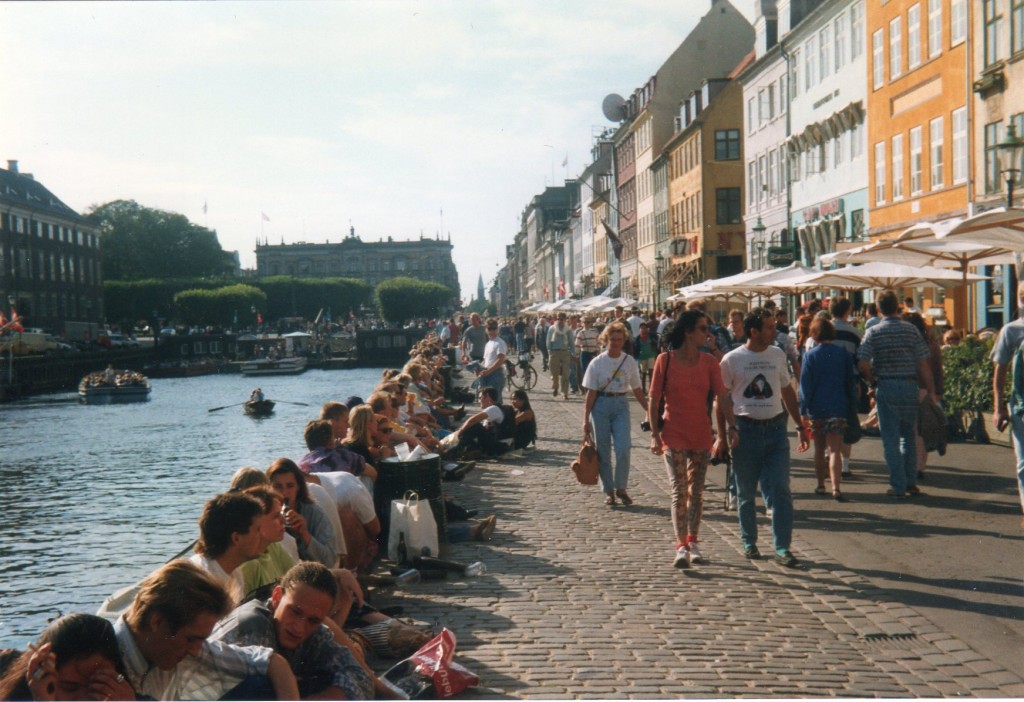 Courtyards behind and between the old houses in the sidestreets to Nyhavn:
Lille Strandstræde 14, Hallings Gård: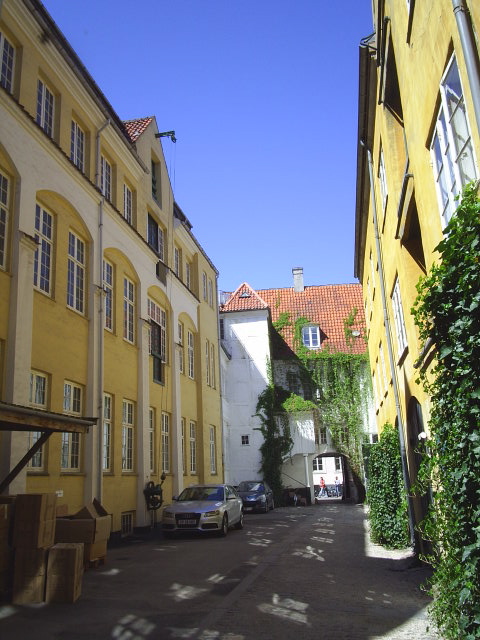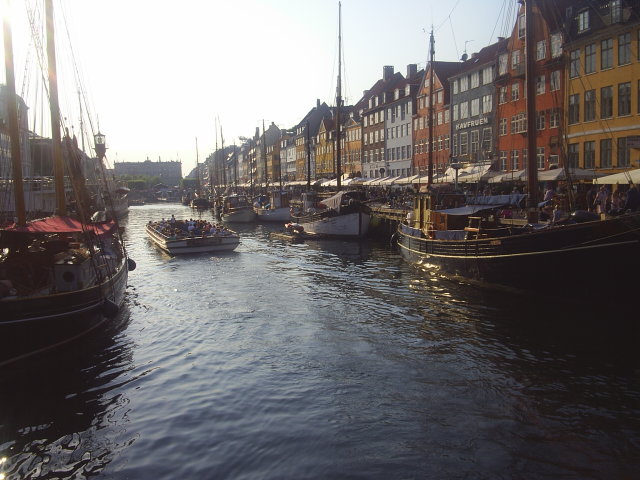 The house where H. C. Andersen lived 1845-64: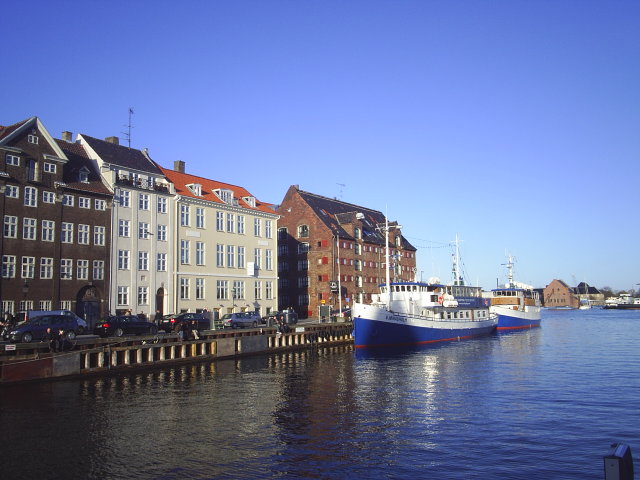 The new Royal Theatre build 2004-07:
The Quay Kvæsthusmolen:
Frederiksstaden in New Copenhagen:
In 1749 King Frederik 5 decided to celebrate his family The Oldenborg kingdom´s 300 years jubilee by building a new Quarter Frederiksstaden in New-Copenhagen. Architect Nicolai Eigtved (1701-54) draw a masterplan Frederiksstaden with a center of a eight angular square with a equestrian statue inspired by french baroque surrounded by 4 palaces. The square is in a center of a cross with 4 streets as diagonals: Frederiksgade and Amaliegade. At the end of Frederiksgade Nicolai Eigtved draw a Church Frederikskirken inspired by Sct.Peters Church in Rome, Italy.
Today the Square Amalienborg Slotsplads is one of the most beautiful in the world: centre Jacques Salys equestrian statue of King Frederik 5 from 1771 and sourrounded by 4 splendid palaces with balcons and ionic columns. The architecture express the constitution of absolute monarchy from 1661 – 1849 in Denmark: The king in center of all power.
The 5. june 1849 Denmark got a new democratic constitution: Danmarks Riges Grundlov.
The King in center for all power: Absolute Monarchy in Denmark 1661-1849:
The 4 palaces were builded from 1750-60 by 4 influential noblesmen: Adam Gottlob Moltke (1710-92) and Christian Frederik von Levetzaus (1682-1756) builded their palaces at the church side (west) and Hans Schack and Joachim von Brockdorff (1695-63) at the waterfront side (east).
Amalienborg Slotsplads is the Center from where 4 streets radiates: Frederiksgade to Amaliehaven and Marble Church (Frederikskirken) and Amaliegade to Gefion Fountain and Sct. Annae Street and Square.
We will visit all 4 streets in "the cross which center is Amalienborg Square":
Amaliegade with Det Gule Palæ (The yellow Palace):
Amaliehaven, Amalie Garden,
Here ends the diagonal street Frederiksgade at Copenhagen Harbour:
Storehouses at Copenhagen Harbour:
Amaliegade. The diagonal street from Amalienborg Slotsplads to Gefion Fountain and Fortress Kastellet:
Gefion Fountain and Sct. Alban Church: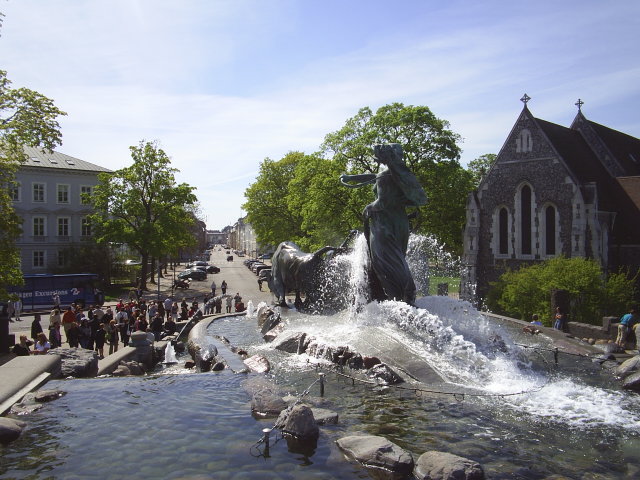 Fortress Kastellet build 1661-65 and inaugurated 28. oktober 1664:
Marble Church (Frederikskirken)
– at the end of diagonal street  Frederiksgade through Amalienborg Slotsplads (Amalienborg Square):
Bredgade is the western demarcation of Frederiksstaden.
In this street you can visit 3 christians churches:
Lutheran protestant church "Marble Church",
Russian orthodox church "Alexander Newsky Church" and
Roman catholic church "Sankt Ansgar Church":
Frederiks Hospital 1757-1910, a principal part of architect Nicalai Eigtveds masterplan for Frederiksstaden – a unic quarter i New-Copenhagen: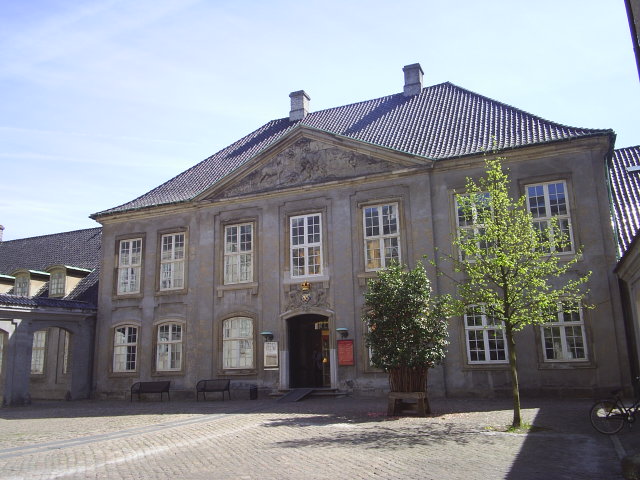 Grønnegården – the inner yard of Frederiks Hospital:
Nyboder, New-Copenhagen, Store Kongensgade:
– houses for men and their families af the Royal Danish Navy: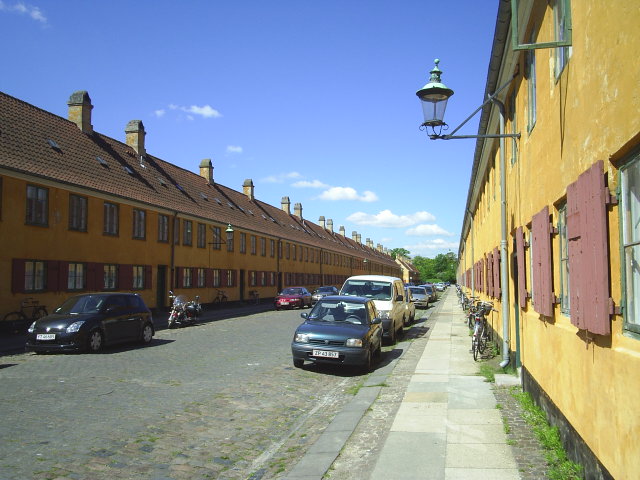 Churchill Park with Museum of the danish resistance movement under the German occupation of Denmark 1940-45: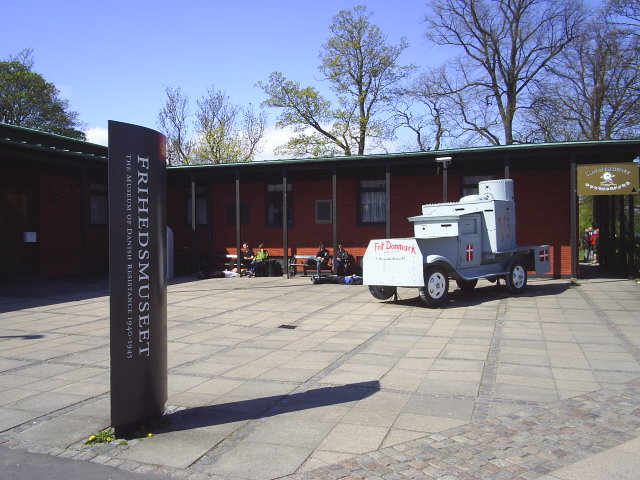 Maersk – A.P. Møller domicil, Espanaden: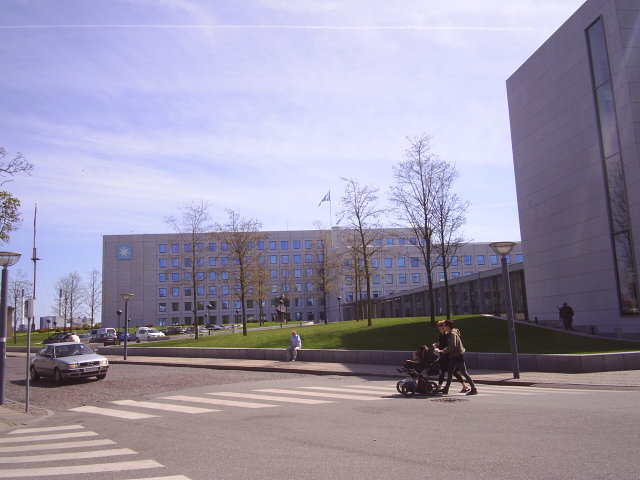 Kastellet Fortress – build by King Frederik 3, 1661-65: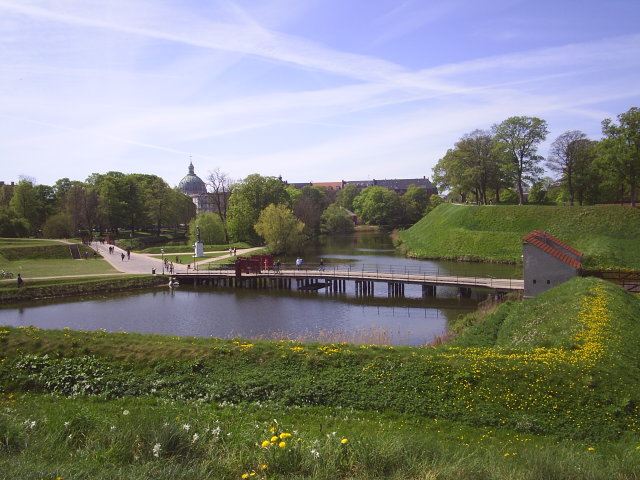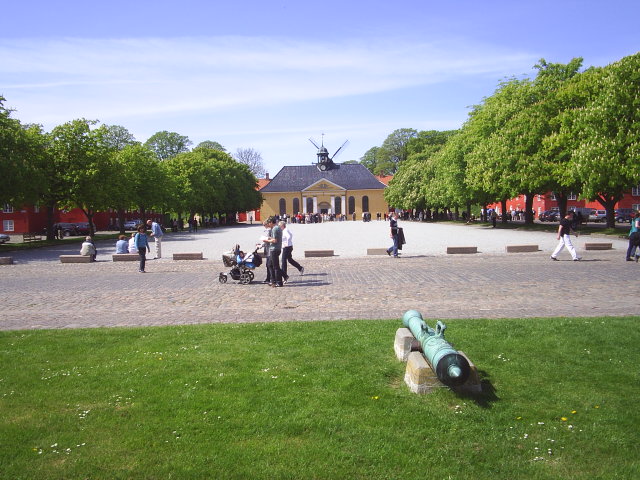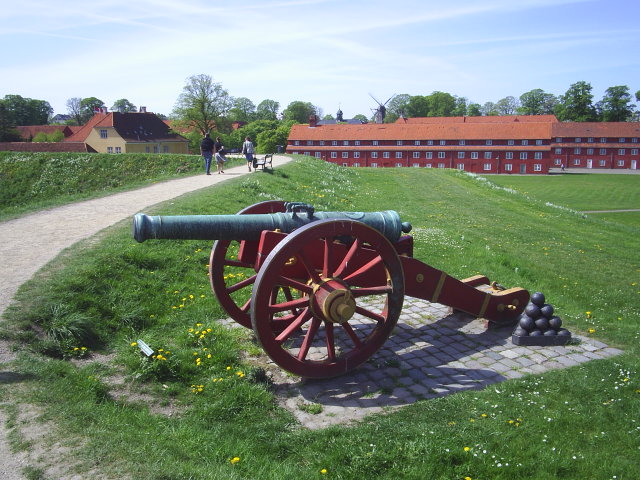 Kastellet, Norgesporten north of the fortress close to  Quay Langelinie:
From Norgesporten there are only 300 meter walk to The Little Mermaid close to Quay Langelinie,
The little Mermaid back in town: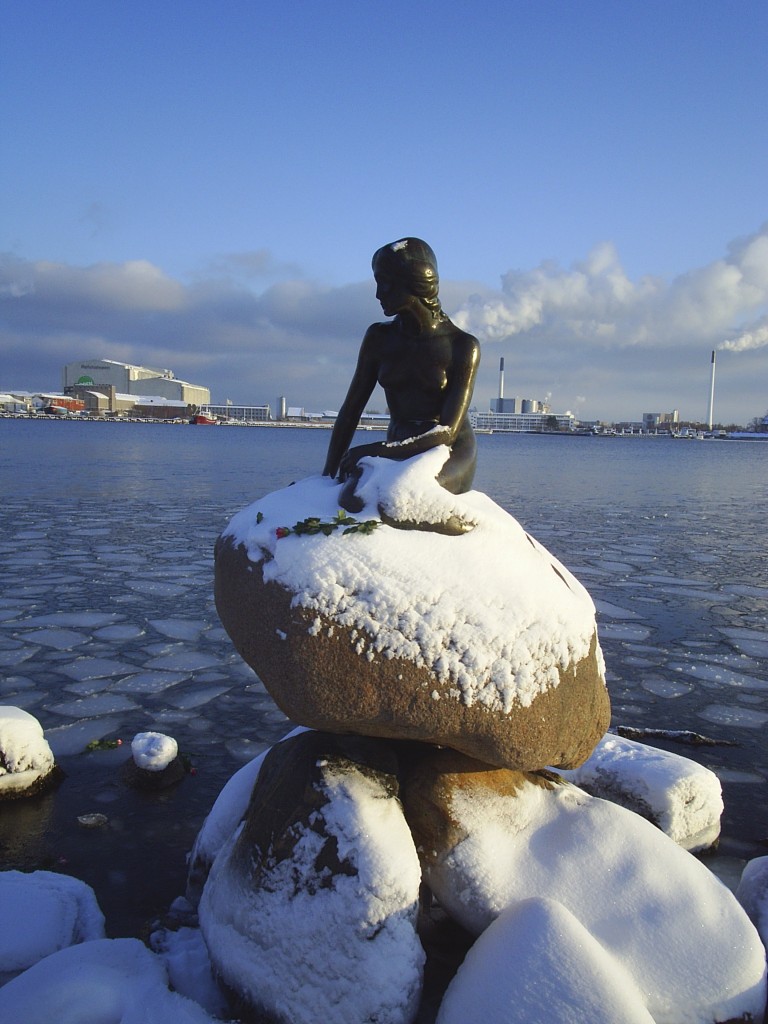 The Little Mermaid " Back in Town"!  " A rose is a rose is a rose"! Quoted from poem "Sacred Emily" (1913) by american writer Gertrude Stein (1874-1946). By sculptor Edvard Erichsen of balletdancer Ellen Price, 1910-12. Donated by brewer Carl Jacobsen, Carlberg Brewery and set up here close to Quay Langelinie 23. august 1913. Back again from a 6 months journey to Shanghai Expo 2010 in China with red roses on the snow on the topstone. Click on the picture and use your zoom control and you will see it in full screen size. Photo: 21. december 2010, Copyright by Erik K Abrahamsen 2011 All rights reserved.
Map of Copenhagen City:
Click on the map and use your zoom control and you see it in full screen size. Photo: Erik K Abrahamsen, 10. october 2012
Copyright text and pictures Erik K Abrahamsen 2011
All rights reserved
Copenhagen 14. january 2011
Erik
Updated 11. october 2012
On my second homepage tvndk.wordpress.com Erik K Abrahamsen Blog you can find 34 articles among others 4 articles:
Oplev Københavns 1000 årige historie