Tsar Nikolaj 2 coronation in Uspensky Cathedral in Moscow 1896
Zar Nikolaj 2 kroning i Uspenski Katedralen i Moskva Kreml 26. maj 1896.
Nicholas 2., Emperor of Russia 1894 – 1917.
Guest list of participants of the coronation 26. may 1896.
The story behind Laurits Tuxen´s repainting in 1918 of Czar Nicholas 2 coronation.
Text Erik K Abrahamsen
After Tsar Nikolaj 2 of Russia`s abdication 15. march 1917 300 years of Romanov Dynasty had ended. In the revolution in Russia in october 1917 the bolchevics removed the Provisional Government and formed a new Government.
Laurits Tuxen was invited to paint a picture of Nikolaj 2´s coronation in 1896. He finished 2 paintings in 1898 and today you can see them at Pavlovsk, St. Petersburg (142,5 cm x 180 cm) and Museum of Hermitage in St. Petersburg (66 cm x 87,5 cm).
After the russian revolution in 1917 Laurits Tuxen decided to paint a new picture of the tsar Nicholas 2´s coronation 26. may 1896 in Uspensky Cathedral, Kremlin, Moscow.
He knew, that he would never see the two original paintings from 1898 again. And possibly the 2 paintings had been destroyed or would be destroyed under or after the bolchevics revolution in Russia.
Laurits Tuxen met the tsar family several times and had painted them individually under personal seances in Tsarskoe Selo (Peterhof), St. Petersburg – one of tsar families summerresidences.
From 1895-1913 Laurits Tuxen had met and painted all the children of Nicholas 2 and tsarina Alexandra Feodorovna´s 5 children: The Grand Duchess Olga born 1895, the Grand Duchess Tatiana born 1897, The Grand Duchess Maria born 1899, Grand Duchess Anastasia born 1901 and Tsarevich Alexei Nikolaevich born 12. august 1904.
The murder of Tsar Nicholas 2, Tsarina Alexandra Feodorovna and their 5 children 17. july 1918 in Yekaterinburg, Russia by the bolchevics was a brutal crime, that shocked people all over the world.
Laurits Tuxen was shocked too.
He decided to repaint the 2 paintings from 1898 of  the coronation in Uspensky Cathedral 26. may 1896.
Here it is.
Painted in 1918 and given to my grandmother Yvonne Tuxen by my great grandfather Laurits Tuxen.  His daughter Yvonne Tuxen (1894-1987) possessed the painting untill her death in 1987.
In 1988 it was sold by Christie in London to a private.
What we know today is, that the original painting "Czar Nicholas 2 coronation in Uspenski Cathedral, Kremlin, Moscow in may 1896", Oil on canvas, 142,5 x 180 cm. by Laurits Tuxen in 1898 was NOT destroyed under the Russian Revolution 1917-18.
The painting is owned by The State Museum in Pavlovsk, St. Petersburg, Russia.
Here is the original painting on an exhibition "Denmark and the czars of Russia 1600-1900" in National History Museum, Frederiksborg Castle, Denmark 29. august – 1. december 2013:
Czar Nicholas 2 coronation 26. May 1896 in Uspensky Cathedral, Cremlin, Moscow,
Oil on canvas, 142,5 x 180 cm., painted by Laurits Tuxen 1896-99.
Owner: The State Museum in Pavlovsk, St. Petersborg, Russia:
Click on the photos and use your zoom control and you see them in full screen size.
Guest list and principal plan given to Laurits Tuxen and published for the first time.
Plan of the coronation 26. may 1896 in Uspensky Cathedral:
Click on the pictures and use your zoom control and you can see them in full screen size.
Attendance list to the plan above:
In may 1896 Laurits Tuxen and his wife Ursule travelled to Moscow to attend the coronation of Nikolaj 2 in Uspensky Cathedral in Kremlin 26. may 1896.
Here at the coronation Tuxen decided the composition of the above painting.
Ursule helped her husbond by acting as a model as tsarina for 2 paintings: the wedding of Nikolaj 2 and princess Alix of Hessen (later zarina of Russia Alexandra Feodorovna (1872-1918) in St. Petersborg 14. november 1894 and the coronation in Uspensky Cathedral 26. may 1896:
Ursule Tuxen, first wife of painter Laurits Tuxen, 1896:
Laurits Tuxen with his wife Ursule de Baisieux became father to 4 girls: Paula born 1887, Elsa (Sasa) born 1892, Yvonne born 1894 and Nina born 1898.
They lived in Bruxelles and Rebecq, Belgium.
Tuxens 3 girls in Copenhagen 1894:
Ursule Tuxen and Yvonne, Rebecq, Belgium 1894:
In 1896 Elsa (Sasa) died 4 years old of tuberculosis. In 1899  and 1900 Ursule and her mother Olympe de Baisieux (born van Calster) both died  of tuberculosis and the same year (1899) Paula died 12 years old of meningitis.
Ursule Tuxen (1862-99):
In 1901 Laurits Tuxen married Frederikke Koes Treschow (1856-1946), daughter of landowner Michael Treschow (1814-1901), Fritsøehus, Larvik, Norway. They settled down in Copenhagen, Denmark in Østerbro and since 1909 in Rosenborg Slots Gartnerbolig (Home and studio) and Skagen (Dagminne, summerhouse and studio) with Laurits Tuxens 2 daughters Yvonne and Nina, 6 and 2 years old.
In 1870 Laurits Tuxen visits for the first time Skagen, Jutland, Denmark. Four of his best artist friends from the Royal Danish Academy of Fine Arts in Copenhagen P.S. Krøyer (1851-1909), Michael Ancher (1849-1927), Julius Paulsen (1860-1940) and Viggo Johansen (1852-1935 lived and painted in Skagen since 1870 ´and here in the beginning of 1900. In the same period Tuxen lived and painted abroad.
Now in 1901 Tuxen decided to join his friends for painting and social compagny in Skagen.
He bought this house:
Madam Bendtsen gård, Skagen, build 1833-41 and bought by painter Laurits Tuxen 1901:
Villa Dagminne, Studio and summerhouse, Skagen, Denmark 1903:
Yvonne Tuxen (1894-1987) welcome you to Villa Dagminne about 1910: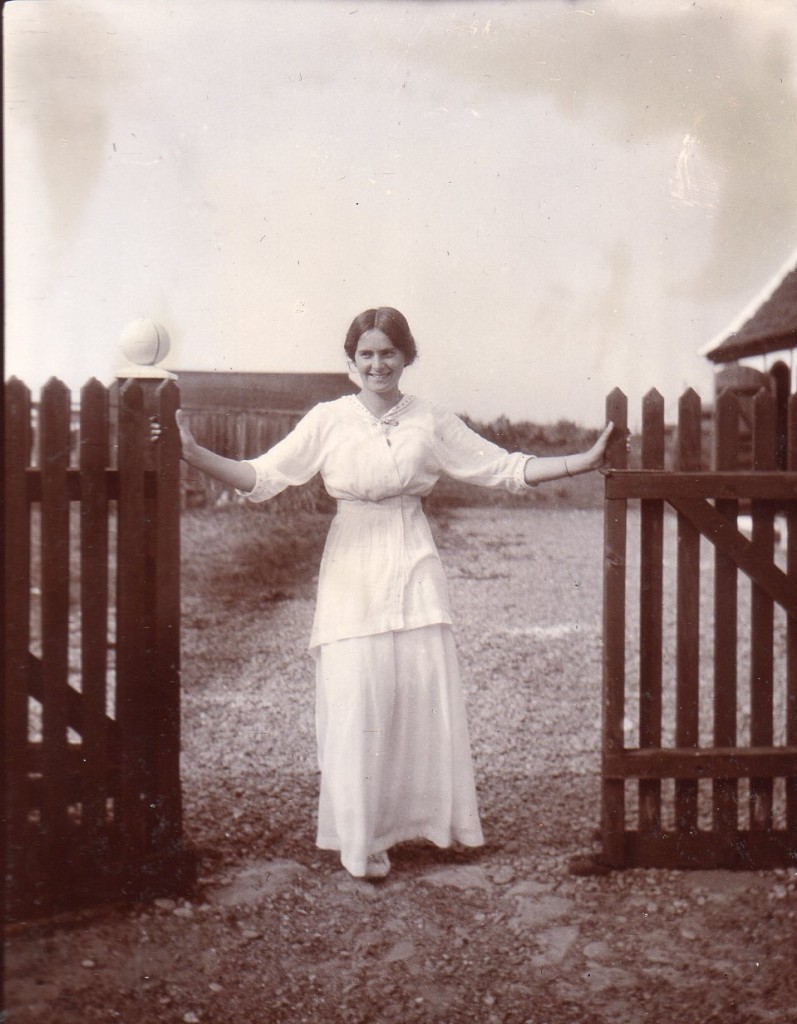 Yvonne Tuxen welcomes you to Villa Dagminne in Skagen about 1910. Photo a. 1910 by Laurits Tuxen. Private
In 1915 Yvonne Tuxen (1894-1987) married Flemming Gustav Voss Wulff (1890-1955) and gave birth to 2 daughters Birthe Ursula, born 1916 and Gyrithe, born 1917.
Frederikke Tuxen and Birthe Ursula, Skagen, Denmark 1917:
Birthe Ursula Wulff, born 3. march 1916. Painted by her grandfather Laurits Tuxen june 1917 in Skagen:
Yvonne Wulff, born Tuxen with her daughter Birthe Ursula born 1916:
In 1942 Birthe Ursula Wulff (1916-2000) got married to doctor Poul Kristian Abrahamsen (1903-62), lived in Aarhus and gave birth to 3 children: Marianne, born 1943, Helle Margrethe born 1947 and I, Erik Kristian Abrahamsen, born 4. august 1945 in Skagen under my parents summerholiday in Dagminne, visiting Frederikke Tuxen (1856-1946):
I have written this article in honour to all the people I have mentioned.
Reference: Lise Svanholm: Laurits Tuxen, Europas sidste fyrstemaler, Gyldendal, 1990
Copyright text and photos Erik K Abrahamsen 2011 and 2013
All rights reserved
Copenhagen, 21. january 2011
Best wishes
Erik
Updated 26. novembre 2013
7 Comments