A life in balance with nature and animals in an forest guard house (Skovløberhus) from about 1750 as neighbour to Oerbaek River, Funen, Denmark:
Text and pictures Erik K Abrahamsen
Friday 23 july 2010 I visited with my 3 friends our common friends, who since march 2010 have rented this forest guard house (Skovløberhus) 100 m from Oerbaek River (Ørbæk Å), 10 km south of Nyborg, Funen (Fyn). The house is owned by Oerbaeklunde Estate (Ørbæklunde Gods) with its 600 hectar of agriculture and forest.
Our friends vision for their dayly life is green and ecological.
They try to be self-sufficient in their animal and vegetable production.
They want to have their animals close around them.  They own 2 goats, 5 chickens and a cock, 4 geese, 2 quails with 6 young birds and 4 cats.
Their vegetable gardens is ecological.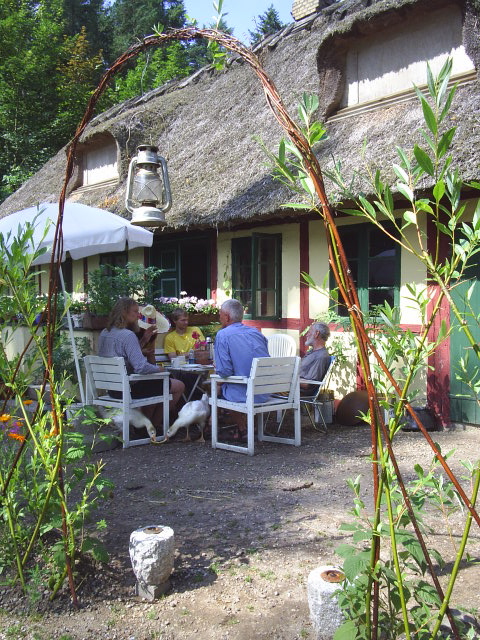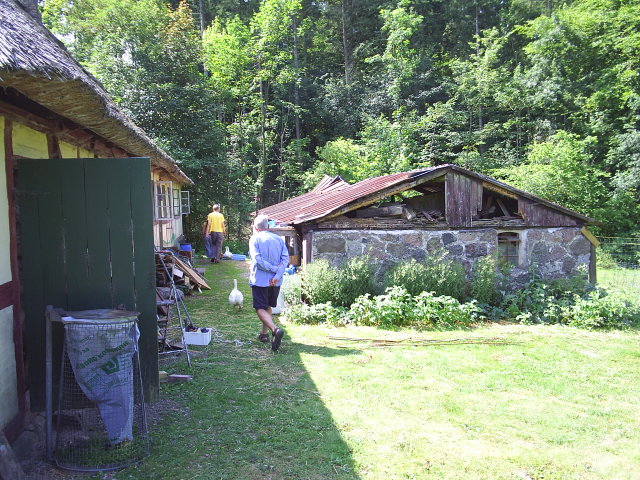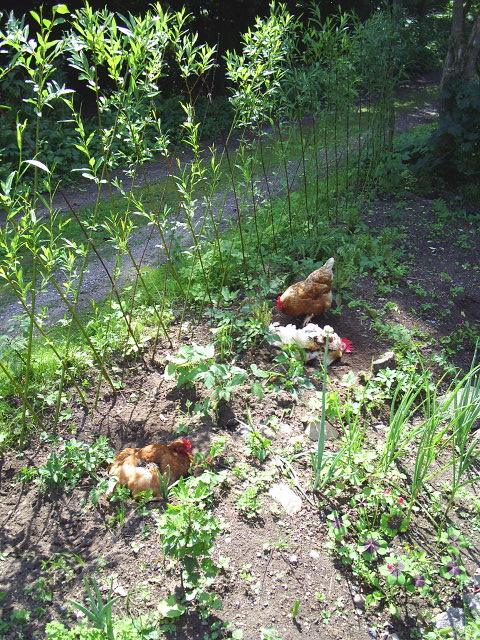 My friends have since 1. march 2010 started vegetable and animal self-sufficient production in small scale.
Its based on ecology and a high standard of etic animal production.
All the animals have a lot of space to move and find food of the best quality.
All the animals can live natural and on their  basic instincts.
All this principles ought to be implemented in large scale animal and agricultural grain, vegetables and fruit production all over the world: ecological and high etical animal standards.
To produce food on high standards it must contain  non or minimum of pesticides, fertilizers and medicine from treatment of sick animals. The soil for grain, vegetable and fruit production must only receive supplement of organic manure.
The food for animal production must be organic of best quality with all the best vitamins, enzymes and minerals. All animals must have a lot of space, when they grew up. There are intelligent and feeling creatures and need love and care to protect them from getting stress and diseases.
The small and big scale agricultural production must be sustainable. All the energy, water, electricity and heat used in the production ought to be recycled.
The conscious consumer want the highest quality of agricultural products for the benefit of their health physically and psychological. And they want and can pay the price for the best quality.
There is a secret of eating less when the quality is in top!
This is the future and the only future for small and large scale agricultural production all over the world.
This future will produce food of the best quality for the taste and benefit of excellent health for all people, who buys and eat the products.
I hope that the farmers will understand this message and change their mind and production.
It will be the biggest change in agricultural production in the last 50-100 years and government-money, creativity, intelligence and patience are needed!
Those who does it will win in the future: economic and moral!
Good future!
The forest guard house. Photo: 23 july 2010
The heating of the forest guard house: