Sensommer i Christianshavn  – en bydel i København med gamle huse, kanaler, fæstningsvolde og en stemning af kærlighed og poesi.
Tekst og foto Erik K Abrahamsen
Clich on the photo and use your zoom control and the text on right of the photo disappear and you see it in full screen size.
Christianshavn was builded by King Christian 4  (King of Denmark and Norway 1588-1648) in 1619-23 as a fortress to protection of Copenhagen with its Royal Castle and Naval Base against enemy invation from Island Amager. 
The fortress and town was designed by inspiration of Nederland (Holland)  renaissance architecture with canals and commercial business and store houses.
Christianshavn was as the only part of Copenhagen spared by big fires in 1728 and 1795, which destroyed thousands af houses in the old center of Copenhagen.
Thats why you will find a lot of old buildings here in Christianshavn dated from the foundation of the town and fortress in 1619-23.
A late summer day 4. september 2014 I visited Christianshavn and enjoyed this beautiful district of Copenhagen on a walk along the Canals, the inner Harbour and squares.
There were people all over – enjoying life in an atmosphere of love, poetry and beauty!
Map og Copenhagen with Christianshavn: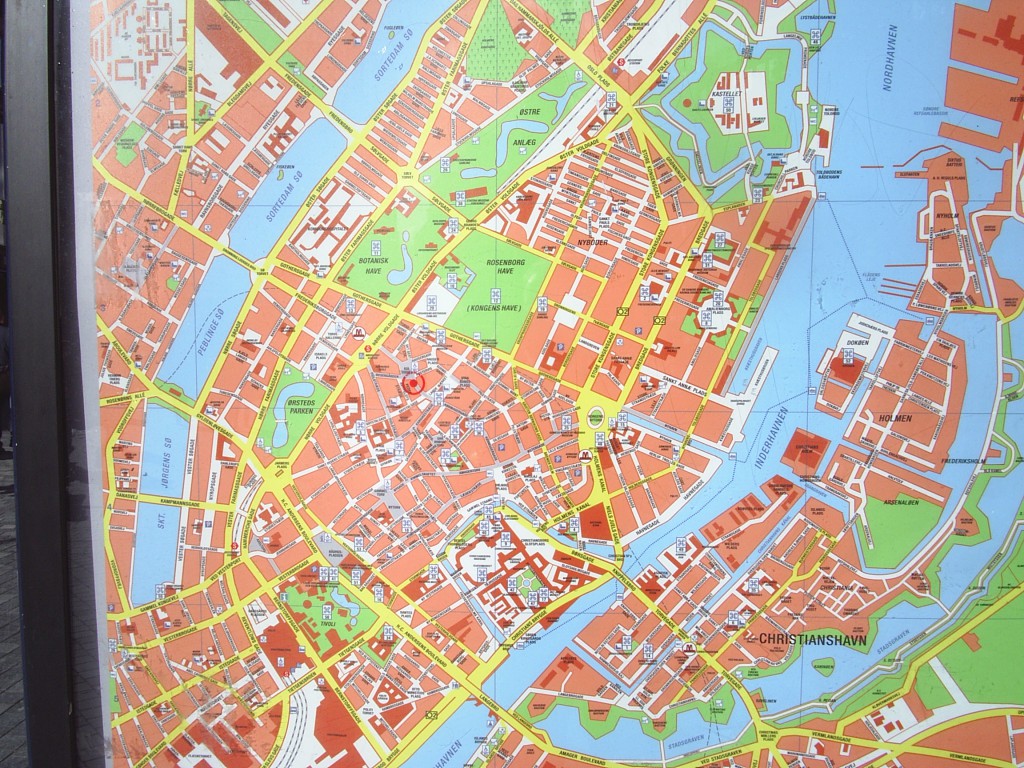 Clik on the photos and use your zoom control and you see them in full screen size.
Here is my experience:
Views from bridge passing Sct. Annae street:
 Relaxing and enjoying life on the bulwark of the main canal: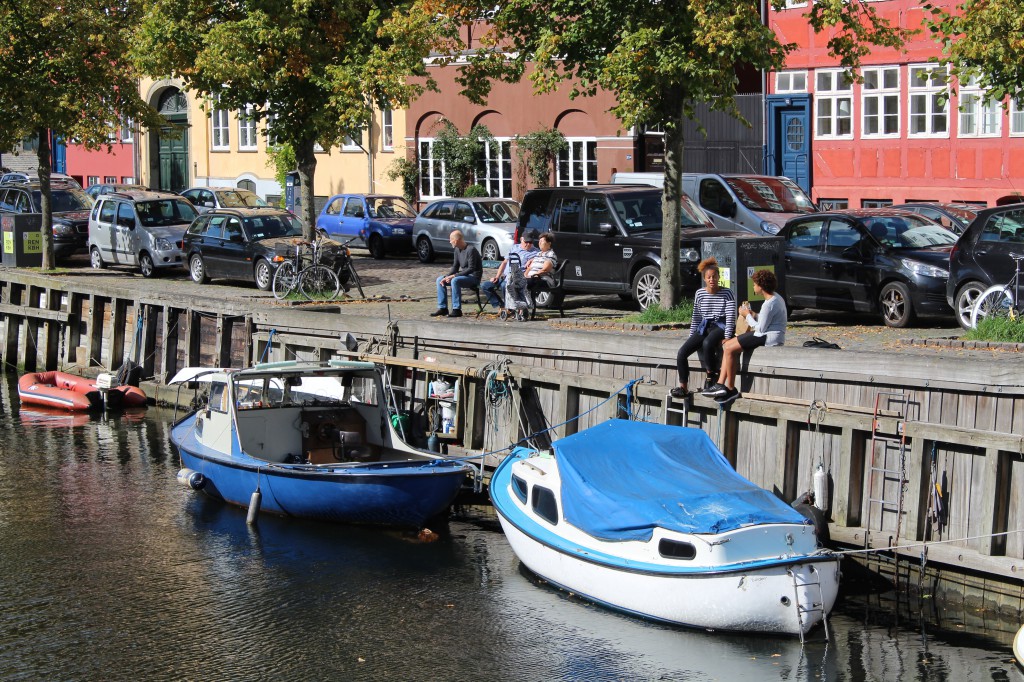 View from bridge to Our Saviour Church by Lambert van Haven (1630-95) and with spire of Laurids de Thurah 1752: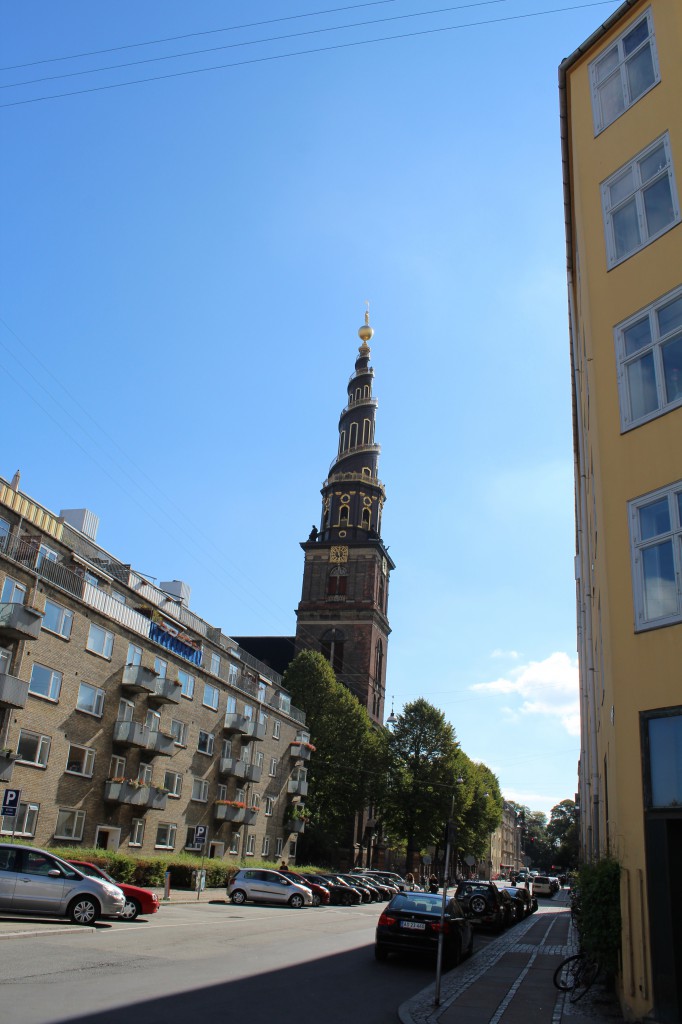 "Love in the air", at the bulwark – atmosphere at the main canal in Christianshavn:
View to restaurant in the main canal close to Torvegade:
I walk through Sct. Annae street north to Wilders street:
Inside the yard of former Infantry Barrack "Wildersgades Kaserne" (1803-1922), Wilders street nr. 60-62 –  today residencies:
The east end of Wilders street open up to a new canal:
View to "Søkvæsthuset" builded 1754-55  by  J. C. Conradi – today Marine Museum: Orlogsmuseet:
View to Wilders Plads – an old shipyard area founded by Andreas Bjørn (1703-50) in 1735.
Andreas Wilder died in 1750 and Carl Wilder bought the area in 1762.
House "Sejlmagerhuset" – the sailmakers house builded by Andreas Bjørn in 1736.
On the roof of "Sejlmagerhuset" sailmakers sewed sail for ships builded on Andreas Bjørns shipyards: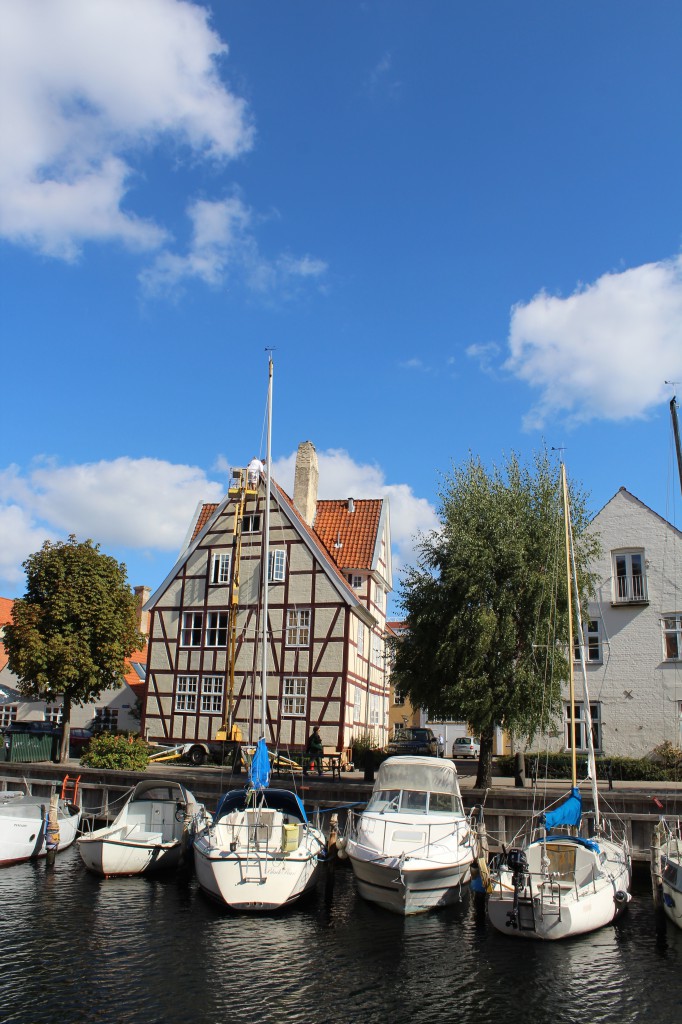 Sejlmagerhuset – sailmakers house builder in 1736:
I continue my walk to Strandgade constructed in 1620 and with old houses for commercial trade:
"Irgens Gård", Strandgade 44, Christianshavn: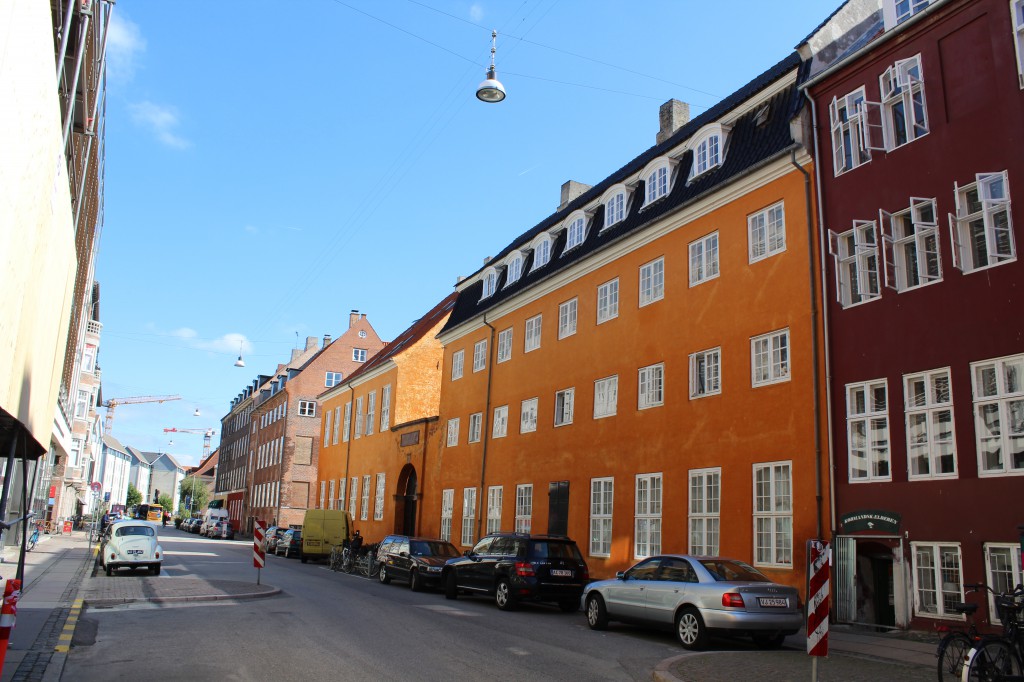 Strandgade 18-32 between Sct. Annae Street and Torvegade:
I visited the yard in Strandgade nr. 30: "Behagens Gård":
Her I pass through the gateway:
2 yards behind the houses Strandgade 28 and 30:
The garden in the yard of  "Sivert Grubbes Gård", Strandgade 28 – originated builded about 1625 in style nederland renaissance:
 Behagens Gård and Sivert Grubbes Gård, Strandgade 28-30, Christianshavn, Copenhagen: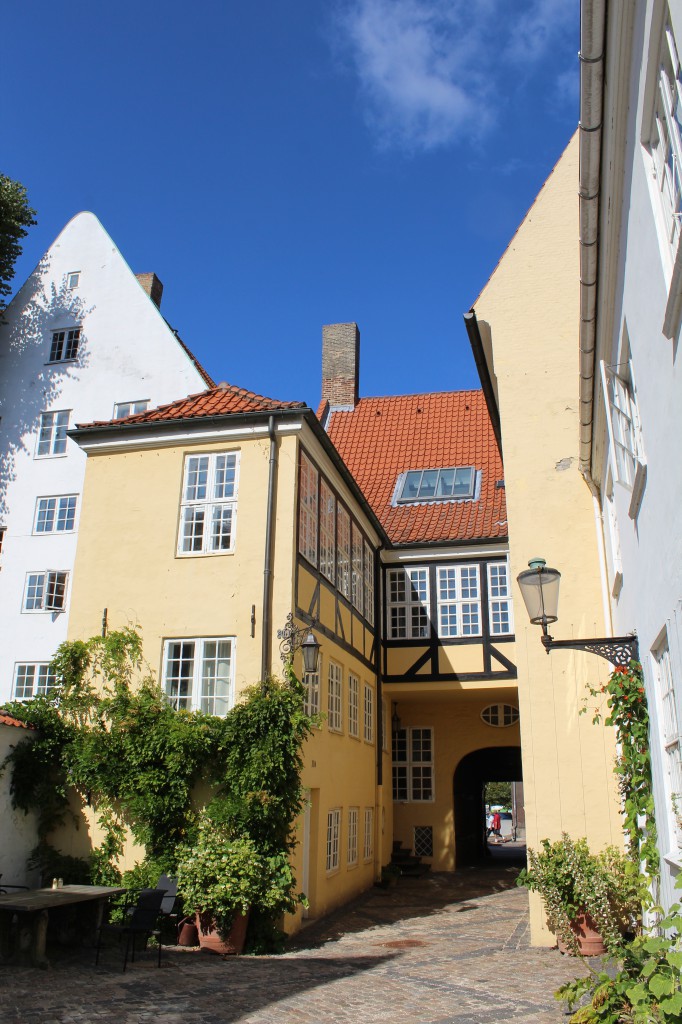 Strandgade founded by Christian 4 in 1 619-23 to stimulate trade in the new city and fortress Christianshavn:
View in direction east to Wilders Place in the background:
In Strandgade nr. 15-17 just opposite the above houses is The Foreign Ministry of Denmark.
As neighbour to Foreign Ministery of Denmark from 1978 you will see the Head Building of former Asiatic Compagny builded by architect Philip de Lange in 1739.
Those two houses are situated directly to The Inner Harbour of Copenhagen and neighbour to Eigtved Storehouse builded by architect  Nicolai Eigtved in 1750:
From Strandgade I walked to Torvegade, whish connects City of Copenhagen with Christianshavn Central Square and Amager: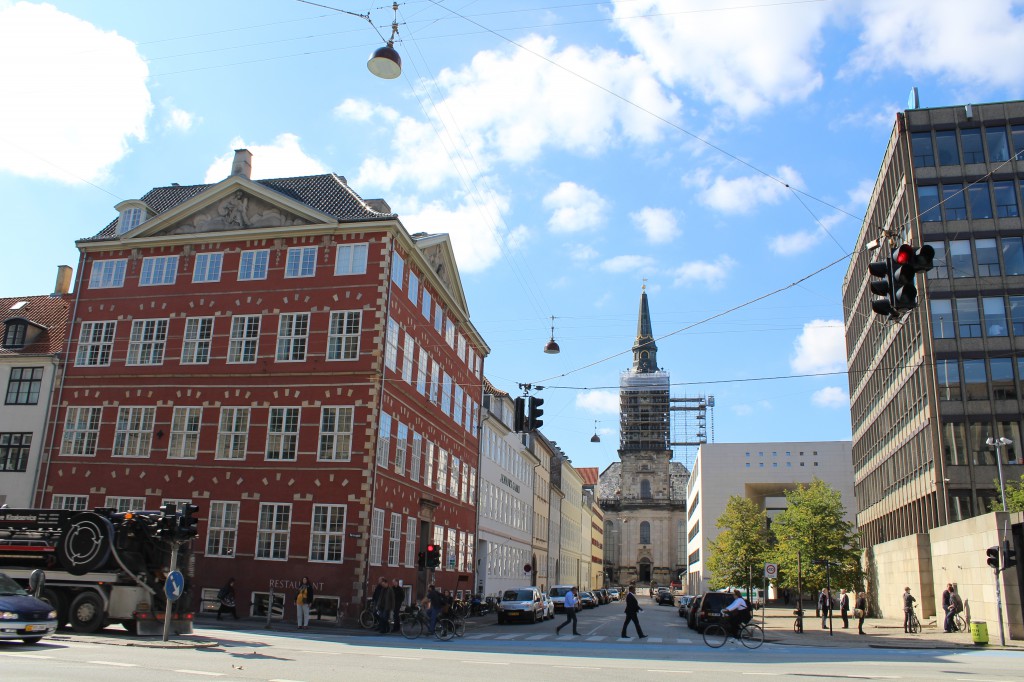 Clisk on the photos and use your zoom control and you see them in full screen size.
From this corner I walked 300 meter to Christianshavn Central Square and enjoyed the relaxed midday life at the bulwarks of the western main canal:
Lunch at the bulwarks in street "Overgaden neden Vandet" at the Main Central Canal in Christianshavn. View in direction west to old houses at the opposite bulwark in street Overgaden Oven Vandet:
Lunch at the bulwarks to western Main Central Canal in  street "Overgaden neden Vandet":
View in direction east to western Main Central Canal with street "Overgaden neden Vandet" at left and street "Overgaden oven Vandet " at right with 7 old houses builded in 1700 (nr. 12-26):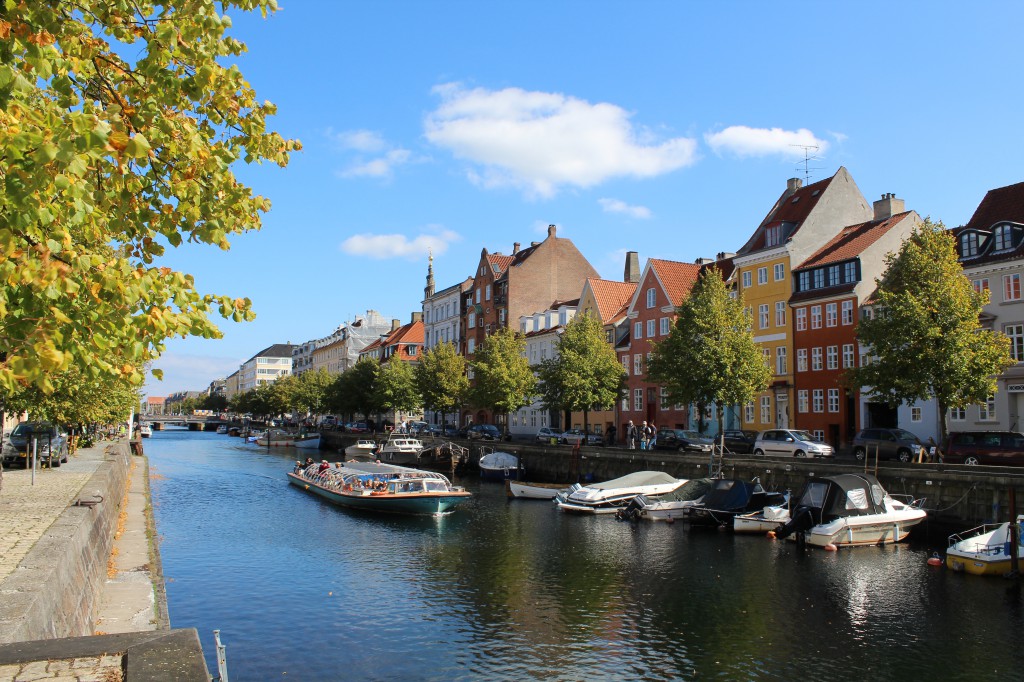 I finished my late summer walk in Christianshavn with a wonderful experience full of beauty, love and poetry here at the bridge in Torvegade with this view to The Floating Restaurant on Eastern Main Central Canal:
I hope you have enjoyed this walk with me –  in your imagination!
Take the walk yourself in "real life and time"!
Enjoy Christianshavn with your family and friends.
Enjoy life – be happy!
Copyright text and photos Erik K Abrahamsen
All rights reserved
Melby, North Sealand, 5. september 2014
Best wishes and love
Erik